Leafy greens, most people have a love/hate relationship with them. I get it. They can be tough, but they can also be oh-so-delicious and they are oh-so-good for our brains.
When working with patients in our clinic, we try not to obsess over any one food or meal. Instead, we think of food in terms of categories and patterns. Thinking this ways allows for more flexibility and less stress/sleep lost over food.
Becuase of their super powers, one of the food categories we focus on is leafy greens. Leafy greens are mostly missing from the Standard American Diet and they seem to be one of the more challenging foods for folks to integrate into their daily routine. I know I wouldn't eat a green voluntarily until my early 20s. They can be bitter, tough to chew, and most of the time, greens mean salad. And no offense to my mother's generation (or her mothers), but iceberg lettuce with canned mushrooms, canned corn and Russian dressing never did it for me, and certainly doesn't now.
The good news is that there are so many great things to do with greens that don't involve a lot of work or soggy salads.
And, there's more than a few great reasons to eat them.
Greens are some of the most nutrient dense foods, meaning they are low in calories and rich in nutrients. While we're not talking about weight loss, packing the calories you do eat with the most nutrients is a surefire way to improve your health in any area. Leafy greens are rich in fiber, magnesium, vitamin C, vitamin K, folate, calcium and iron. They're also loaded with antioxidants which help rid our bodies of harmful free radicals (including in our brains!).
So what's a serving?
A serving of leafy greens is one cup cooked or 2 cups raw.
Are you getting at least one serving of leafy greens per day? If not, try some of of the tips below and let us know how it goes!
Diversify
When we talk about leafy greens, we're talking about any of the following:
Swiss chard

Spinach

Kale

Watercress

Purslane

Romaine and other lettuces (green or red leaf, butterhead etc)

Arugula

Collard Greens

Sprouts (sunflower, alfalfa, broccoli etc)

Mustard Greens

Dandelion Greens
You can also get a lot of greens in "baby" varieties, which are sometimes less bitter and less tough. Experiment with different greens and see which ones work for you.
Breakfast
Adding greens into your breakfast may seem like a challenge, but not anymore! Smoothie for breakfast? Add in some kale, spinach or romaine. Green herbs like mint or basil also add nice flavor.
Prefer eggs for breakfast? No problem, throw in a handful of spinach and you've got ½ serving of greens in before you leave the house.
Bagel and cream cheese or breakfast egg sandwich? Add some arugula for some color. If you buy it pre-washed it will take less than 20 seconds to do.
Recipe: 5 minute pesto arugula breakfast sandwich by A Couple Cooks
Soups and Stews
Who doesn't love a hearty stew or soup? There's something so comforting about a warm bowl of soup. The smell, the taste, the memories…
The great news is, this is one of the easiest ways to get your greens in. 5 minutes before your soup or stew is set to finish cooking, throw in a few handfuls of thinly sliced leafy greens – collard greens, swiss chard, kale or spinach. It will cook down in the hot liquid and absorb the delicious flavors of your soup, all while boosting the nutrient density of your meal. Greens go incredibly well with any bean soup, noodle soup, or thick and hearty meat or vegetable stew.
Recipes: Moroccan Chickpeas With Chard  (save a ton of time by using canned chickpeas)
For more ideas on how to add greens to soups and stews, check out some great recipes on Epicurious.
Sautéed Greens
We all know that a fridge full of brain-healthy options is paramount to eating in a way that supports brain function. Sauteed greens takes very little time to make, and having a bunch ready to go makes it second nature to add these tasty morsels on the side of any meal. It can be as simple as some olive oil, 2 cloves of garlic, a pinch of salt and a bunch of greens, or you can add layers of flavor and spice.
Recipes:
Basic Leafy Green Recipes from Around the World by Rebecca Katz
Garlicky Leafy Greens by Rebecca Katz 
Mocktails and Mayo 
Anything is possible in the land of leafy greens – including mayo and mocktails. Kale Mayo? Just blend a handful of kale leaves with some good quality olive oil mayo for a colorful boost to your sandwich or tuna/chicken/chickpea salad.
Ready for a night out on the town? Add some kale powder to your mocktail (or cocktail).
Kale-onaise
From 50 Shades of Kale by Dr. Drew Ramsey and Jennifer Iserloh
2 cups chopped kale, packed

½ teaspoon sea salt

2 garlic cloves, chopped

1 cup mayonnaise (olive oil based and organic, if possible)

Zest and juice of 1 lemon
In a food processor, combine the kale leaves, salt and garlic. Process until finely chopped. Add in the mayonnaise, lemon zest, lemon juice and process until smooth.
Salads and Sandwiches
Grabbing lunch to go can be a tough place to make healthy decisions, or an opportunity to add some color to your plate. Building a sandwich? Make sure to get some leafy greens in – go for the darker varieties if that's an option, and don't be afraid to ask for an extra handful.
Salads are probably the number one way to get a large quantity of greens into your diet. Build your own using lots of colors and textures and don't forget to add a protein like hard-boiled eggs, salmon, or beans. There are no rules to salads, you can add whatever you like! Have fun building your own and finding out what strikes your fancy. We love a good kale salad here. Check out this one from Eat Complete.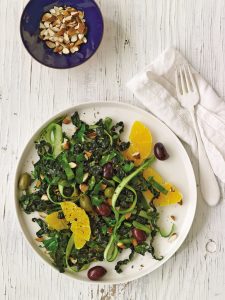 Marinated Kale Salad with Shaved Asparagus, Olives, and Orange Zest
Why it's so good for you: "The dose of vitamin K is very high in this recipe," says Dr. Ramsey. "Vitamin K makes these long fats that surround and protect brain cells. It's like the insulation around an electrical wire." The salad is also high in vitamin A, "which directly functions in the brain and nervous system," Dr. Ramsey adds.
Serves: 4
1 10-oz. bunch kale (blue dwarf, curly, or lacinato), stems trimmed

1 Tbsp. extra-virgin olive oil

2 oranges

1 lb. asparagus, trimmed

½ cup assorted olives, pitted and chopped

½ tsp. hot or mild paprika

½ cup sliced almonds
Tear kale leaves and place them in a large bowl along with olive oil. Squeeze leaves with your fingers, crushing kale to tenderize it, for about 1 minute. Using a microplane grater, finely grate zest of 1 orange and transfer zest to bowl with kale.

Shave asparagus using a potato peeler or mandolin. Add asparagus to bowl with kale along with olives and paprika and toss well. Refrigerate salad for at least 1 hour.

Just before serving, prepare oranges. Using a sharp paring knife, remove orange peel and white pith and thinly slice oranges. Divide salad among four plates and top with orange slices and almonds.
Per serving: 205 Calories; 8g Protein; 23g Carbohydrates;12g Fat (1g Saturated); 0mg Cholesterol; 7g Fiber; 157mg Sodium
Need help adding greens into your diet? Schedule an appointment with Samantha for individualized support.
Samantha Elkrief, LMSW is a therapist, health coach and health supportive chef. She specializes in change and her toolkit is unique to help you find a place of contentment and joy with food. She is an expert in plant-based and vegan diets, and an unparalleled ally for creating brain food recipes for clients with food sensitivities, allergies, and intolerances. Along with a masters degree in social work from Columbia University, she is a certified health coach and graduate of the Institute for Integrative Nutrition and trained at The Natural Gourmet Institute.